Feeling a little bit along the lines of needing to run around the park, hands flying, mouth wide, guttural sounds frightening the neighbourhood – cabin fever hit big – I managed to compose myself for a very short while before the call of the Wispa chocolate bar hit me.
Wispa, my new favourite. This past Easter the Hubster and I had a DE-LI-CIOUS Wispa Easter Egg. Man, did we enjoy it. The egg itself was neither here nor there, the bars themselves were the winners.
Back to last night then. There was a brief face-off while contemplating the sensible option of eating only half the bar.  The internal argument being by eating half tonight, then the calories will be half the bar, and tomorrow evening the rest could be consumed, therefore keeping my calorie controlled daily intake in check – yeah right on that thought, what's a calorie-controlled daily intake?
Or
I could eat the entire bar last night and not have any chocolate today. Perfect. 2 days of chocolate in one go. Surely that works?
What did I do?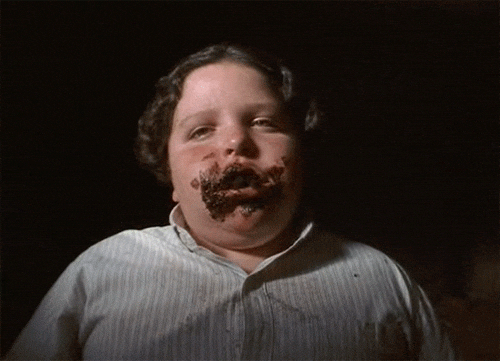 Gif courtesy of here: SMILE
Easy, shoved the whole darn bar down my gullet.
What happens tonight when the Hubster hovers more chocolate within my reach?
I'm pretty sure that question is easily answered. After some well thought out logic that confirms, tonight, I will be eating next Thursday's chocolate, the Wispa wrapper will be off.
Happy Saturday